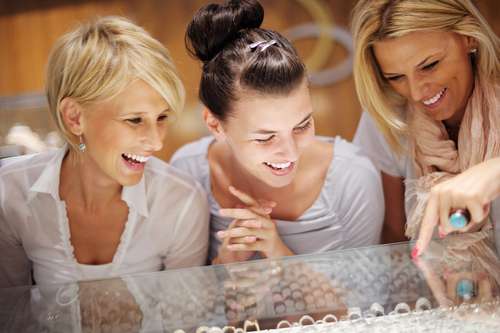 Were you aware that making a phone call to one of your previous customers could land you in the type of hot water that could see you receive a fine of $16,000? We're willing to bet you had no idea. And why would you? As a jeweller, your expertise involves gold, silver, diamonds and the many other materials that make up the beautiful items on your product list. You know jewellery. At TK Enterprises Inc., however, we know phone calling.
There are rules and regulations put in place to protect consumers from scam artists, phishers and robocalls. The last thing you want to do when embarking on a telephone-based marketing campaign is run the risk of violating the rules set forth by the Federal Trade Commission (FTC).
Both in Canada and the US, there is a National Do Not Call Registry. If you're tired of getting spam or phishing phone calls, as a consumer, you have the ability to register your phone number on the National Do Not Call Registry. This should stop people from calling you if their calls aren't warranted. There are, however, certain exceptions. Political campaigns and charitable phone calls are exempt. An "established business relationship" is also exempt.
When TK Enterprises Inc. works with a retailer, we let them know how far back they can go.  Each state is different! Even if a customer is registered on the Do Not Call list, we have the right to call on behalf of the client because of the established business relationship.
In some states, however, things work a bit differently.
Federally, it's 18 months. However, in some states, there are either 6, 12 or 18 months legislation that do not abide by federal rules. In Wisconsin and Indiana, however, the number is 0. In other words, the minute a transaction is complete, the customer is no longer considered a customer who can be called unless he/she has given implicit and written permission to the merchant to contact him/her.
In both states, retailers with brick and mortar stores must apply for permits that cost money. Only then do you have the ability to go into the DNC database to research customer phone numbers to see if they are in there.
If the phone numbers are listed, they cannot be called – no exceptions. However, if the phone numbers are not listed, retailers are free to call those customers.
TK Enterprises Inc. has personally paid the $750.00 permit fee for Indiana-based clients. That way, we can do database searches on their behalf. Our one permit is able to cover all of our clients so that they don't have to each pay for them themselves. In Wisconsin, however, each applicant's tax ID must be registered individually.
The Importance of Letting The Experts Handle Your Phone Calls
If you're calling customers who haven't been in your store for two years, they aren't considered "customers" as far as the Federal Trade Commission is concerned. Simply put, you run the risk of having such individuals report you to the FTC.
Remember that the legislation are based on constantly rolling time periods. At TK Enterprises Inc., we specifically launch calling campaigns that are based on very clear understandings of the time limits within which we can make the calls.
It's our job to know the law for you.
We ensure that our calls are made within the legal time parameters set out by the legislation in each specific state.
For more information about our Event Marketing services, please don't hesitate to call us toll-free at 1-877-622-0195. You may also email us at heidi.tke@tomkaufmann.com